The Elite Squad
Your browser does not support the video tag. The
Elite Squad

is a growing group of Business Owners, Directors, Partners, Service Professionals and other entrepreneurial folk who've

all decided

that they cannot carry on in business and remain naive – ignorant even – about

Marketing and Selling

, in all its facets.
Every single week

we focus on modelling what the most successful business people do, via the

regular e-mails

. One of the most important elements is the

ongoing support

that is available for members all the time, because they are getting this material on a regular basis.
Then, every
month

, you'll receive the

Elite Squad Bulletin

and an

audio CD

delivered to your door. Each time we concentrate on specific areas of business, entrepreneurial, sales and marketing success – a certain Marketing method, a specific element of lead generation, pricing or selling.
Maybe we'll talk about a particular tool or technique one month, or whatever it may be. Sometimes I interview
leading names

from the entrepreneurial, business, sales and marketing worlds. And if any member wants to

gain wider publicity

for themselves and their business, I'll interview them about the various successes they've achieved as a result of being in the

Elite Squad

.
When you decide to join the
Elite Squad

it signifies that

you've decided to set yourself apart

from the majority and put yourself in a position to

achieve far better results!

Why I Created The Elite Squad
Why am I doing this? It's simple! I specialise in combining Advanced Pricing and Selling with cutting edge Lead Generation and other Business Development Success strategies, to show professionals like you how to
increase your fee income and profits

by 50% - 400%. If I can give you

access to some of my finest material

and it

immediately starts making you money

, I'm guessing you're going to want to be a client of mine for life.
Membership of the
Elite Squad

, membership that I believe will have

a dramatic effect

on your firm, your business development results and ultimately your profits, is yours for only £42.95 +VAT per month. You'll get the e-mails, online videos, seminars and features, plus monthly CDs and bulletin mailings packed with practical ideas to rapidly get you

more clients giving you more income, more often

.
I want you to see
how easy it is

to improve your performance when you start adapting and adopting the success strategies that others have shown work brilliantly.
Membership

of the Elite Squad includes complete access to exclusive online videos, seminars and features plus monthly CD and bulletin mailings, all designed to

accelerate the growth of your income and profits

. Membership of the Elite Squad is £42.95 +VAT per month.
You will receive:
Your monthly

Elite Squad Bulletin

and

Business Development Success CD

, mailed directly to your home or office
Each month's bulletin includes either a

frank interview

with one of my clients who has successfully implemented my techniques, or some

no-holds-barred critiques

of members marketing material
Each month's CD includes my

cutting edge insights

for your business development success or

exclusive interviews

with top achievers in a range of Professional Services
Regular weekly

Elite Squad Emails

where I share my Advanced Selling, Pricing and Marketing Strategies

Advance notice

of my courses, training and coaching/mentoring programmes

Big reductions

for Elite Squad members on future courses, seminars and events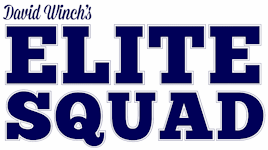 Your membership subscription is set at £42.95 per month plus VAT. You may cancel your membership at anytime, but most members choose to stay members for the long haul as the information they receive from me is
often worth thousands of pounds

.
Enter your details on the right now

- you're just moments away from information that can have

a major impact

on your business life.


Here's what others are saying about David Winch and the Elite Squad:
"I received loads of valuable information that was specific and actionable. I was able to come away with lots of ideas, which I spent a couple of hours putting into a specific strategy for my firm that was implemented immediately. The implementation of the ideas I gathered has seen an immediate 25% increase in fees for a typical case, and this will only increase further."

Katie Forrest - Motoring Lawyers Online
"Doing as David Winch suggested has produced some outstanding results for me. The fees that I actually collect have increased by a step change but more importantly, in all cases the client/ professional bond is much stronger and this has led to lots of incremental business. David is a great exponent and I consider myself very lucky to have been trained by him."

Nigel Denny –Cornerstone Management Initiatives
"David Winch has taught me to really listen to what clients are valuing, rather than what I thought they were valuing. Now we book a 20 minute phone discussion with all enquirers where we go through a fairly detailed questioning process to get the clients to clarify in their own minds what they actually want before we make a site visit. This has saved us several unnecessary expensive trips."

John Dyer-Grimes - Dyer-Grimes Architects
"The biggest revelation I've got from David Winch is pricing by the value the client gets and not by the hour or the day. Working with the client to articulate value is a very powerful technique. We work together to find a solution so it doesn't really feel like selling at all. The big thing is getting them to articulate the value, but do you know, in practice they always get even more value than they think they will!"

Lindsay Wittenberg - Lindsay Wittenberg Ltd
"The ideas are very valuable, giving a different perspective to approaching a sales conversation with a prospective client. The questioning techniques and the sales conversation structure have proved very useful."

Mike Jones - Potential Matters
"The biggest thing I take away is the alternative way of doing business – and it works."

Ian Perry - Remedy For Business
"I put the fee setting ideas into practice as clients prefer set fees to costs running out of control. I'd recommend this to any service provider - You'll learn all about selling and what to do and what not to do."

Lynn Munday - Forecast Flow
"Even the most experienced sales person would get inspiration and new ideas, and those who charge an hourly or day rate could well transform the way they do business."

Ann Hawkins - The Inspired Group
"These methods ensure the client will agree that the fees represent great value for the service that will be provided. They've probably decided to buy before the prices are even discussed!"

Paul Forsythe - Alemare Solutions
"Packed with first class ideas to make you think really hard, and no padding! The notions behind creating value and compelling marketing messages are really excellent. Highly recommended."

Jonathan Wainwright - FCG Consultancy
"A synthesis of best advice, logically presented, fastidiously organised, and amusingly delivered. Spruces up my sales skills!"

Charles Vasey - Charles Vasey & Co
"I've picked up practical strategies for implementing lots of ideas and processes, as well as looking on my business in a completely different way. First rate!"

Garry Mumford - Insight Associates
"Indispensible for the ongoing success of my business. The techniques for Sales and Marketing have had a great impact. I have been able to plan a process for achieving my goals, and the confidence to put it into action."

Alan Jones - Nerostorm
"David Winch's material is having a great effect on the culture, attitudes, procedures and profits within our company. We have been presented with a new sales process to implement, in the form of a journey which is more 'value added' and definitely 'leaner' than what we have done for years."

Nick Scott – Lean Ideas